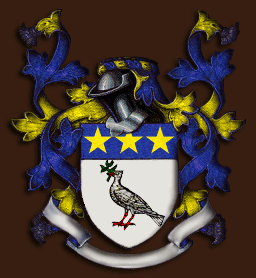 The Mortier Coat of Arms illustrated right was drawn by an heraldic artist from information officially recorded in ancient heraldic archives. Documentation for the Mortier Coat of Arms design can be found in Rietstap Armorial General. Heraldic artists of old developed their own unique language to describe an individual Coat of Arms. In their language, the Arms (shield) is as follows:
"D'azur a une colombre d'arg., bq. et m. de gu., tenant en son bec une branche d'olivier de sin. et acc. de trois estoiles d'or, rangees en chef."

When translated the Arms description is:
"Blue; a silver dove; beaked and legged red, holding in his beak a green olive branch and accompanied by three gold stars, arranged in a line at the top."
Family mottos are believed to have originated as battle cries in medieval times. A Motto was not recorded with the Mortier Coat of Arms.
Individual surnames originated for the purpose of more specific identification. The four primary sources for second names were: occupation, location, father's name and personal characteristics. The surname Mortier appears to be occupational in origin, and is believed to be associated with the French and Germans, meaning, "one who was a mason." Different spellings of the same original surname are a common occurrence. Dictionaries of surnames indicate probable spelling variations. The most prominent variations of Mortier are Du Mortier and Mortiers.